In keeping with the DIY nature of our wedding process (and life together in general), we decided the best way to keep our friends and families posted on any new developments would be (of course) to start a blog. Jacob? Maria? New internet projects? You don't say.

We went to get our marriage license today. Our parents and numerous others who got married in the 1970s and 1980s have asked us about the blood test. I'm happy to report that there was no bloodshed; we just had to swear we were of consenting age, not related, and that we'd never been married before, and that was that.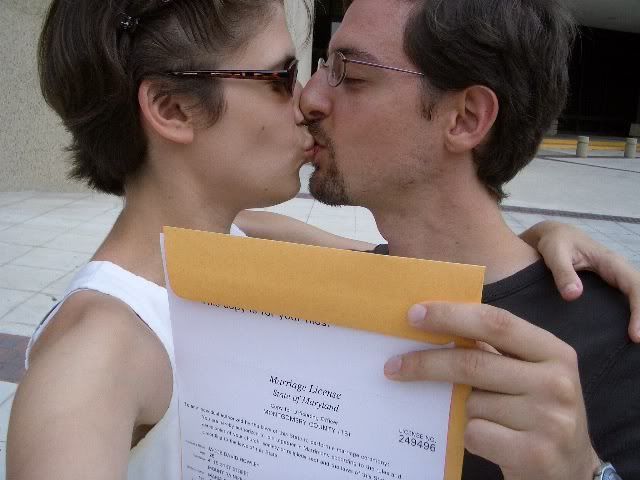 The next order of business is kind of an awkward one, I'm afraid. Once we had announced to all of our friends and family that we were getting married, and that we didn't really go in for the whole wedding gift thing, let alone big registries at fancy department stores, someone in my family (who shall remain nameless) offered this novel piece of advice regarding wedding gifts: "If you don't tell people what you want, they will buy you things you don't want."

Well, we'd be lying if we said there aren't things we want. Since we moved into our house, we've actually found ourselves saying to each other, "Someday when we have the money, we should get _______." Those blanks have all formed a modest wishlist, which we've put on Amazon.com (link to the right).

And all the wedding etiquette things say stuff like, "Don't inform your guests about your registry in the invitations. Inform them in the shower announcements." Invitations? Shower? None of those here. So here it is on the blog.

So, if you are the wedding gift sort, and are wondering if there's something we've been wishing for, we'd be happy and grateful to receive any one of those things. If you're not...no biggie. Honestly. We don't expect anything from anybody besides sharing in our happiness.